Revolutionizing Educational Collaboration: K12Leaders Mobile puts Learning Networks in the Hands of Educators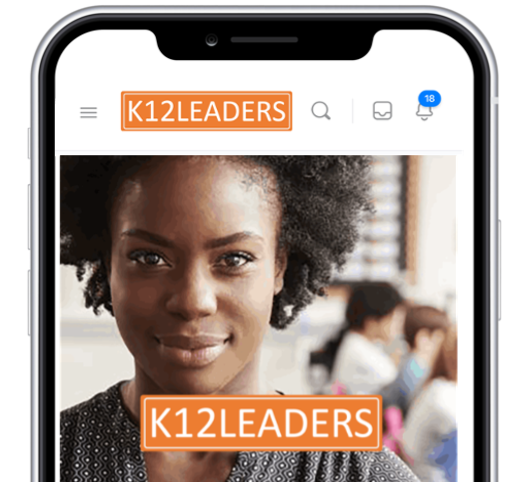 Enhanced mobile access and real-time messaging make it easier and more secure for educators to get the support they need when they need it.
FOR IMMEDIATE RELEASE
Andover, MA – October 4th, 2023 – K12Leaders, a leading network of K12 educators, staff, and administrators, today announces K12Leaders Mobile, delivering a suite of new features enabling real-time professional learning communities. This game-changing platform is designed to help educators find the professional and moral support they need on-demand; enabling more effective learning environments, collaborative relationships, and better student outcomes.
Built by educators, for educators, K12Leaders.com launched their website in 2022 to address the turbulence within traditional social media networks. K12Leaders Mobile   makes it easier for teachers, staff, and administrators to access a safe space for collaboration, networking, and professional growth. 
"K12Leaders has been indispensable for helping me create better connections and professional support networks over the last year," said member Dr. Cathy Collins, who is a leader in library and media services. "I've appreciated the focused group conversations around topics that matter to me!" 
A prolific voice in educational innovation, Dr. Wesley Fryer also added, "As social media platforms continue to evolve, the K-12 Leaders network is a vibrant community to share ideas and make connections among other educational professionals. It's become an important ingredient of my daily media diet!!"
Benefits: With K12Leaders Mobile, educators can now enjoy the following:
Instant Connection: Educators can connect instantly with colleagues, enabling quick collaboration, brain-storming, and problem solving.

Mobile Accessibility: K12Leaders Mobile is accessible from any mobile device, ensuring educators can access crucial resources anytime, anywhere.

Peer-to-peer Collaboration: Real-time messaging allows educators to engage either colleagues in their own building, or those they may have met at conferences or other professional development events.

Knowledge Sharing:  Mobile ai-enhanced blogging encourages educators to share their experiences within a safe community of their peers and learning communities

Professional Pathways: On-demand professional development and learning pathways

Security : Comprehensive privacy options, allowing community members to control their data privacy effortlessly.
"The dedicated educators who initiated this network last year had four distinct goals in mind," said Michael Bronder, CEO and one of K12Leaders' co-founders. "Those were to amplify educators' voices, to provide a safe and comprehensive suite of online collaboration tools, to keep conversations going after conferences and professional development, and to cultivate more authentic relationships within and between districts. This release of K12Leaders Mobile empowers us to offer all these opportunities whenever and wherever our members need them."
K12Leaders Mobile is available free for educators and can be found on the App Store and Google Play, as well as at K12Leaders.com.
About K12Leaders:
K12Leaders is the leading professional network for K12 teachers, staff, and administrators. Built by educators for educators, K12Leaders has become a innovative platform for educational collaboration and driver of positive change in how educators can work together to improve their own practice, enable professional growth, and ultimately improve outcomes for their students.
For more information or media inquiries, please contact:
Contact: Suzy Brooks
Email: Suzy.Brooks@k12leaders.com
Contact phone: +1 617-213-0201
###
K12Leaders, Inc.
90 Main St. Andover MA 01810
Recommend

0

recommendations
Published in Leadership Voices