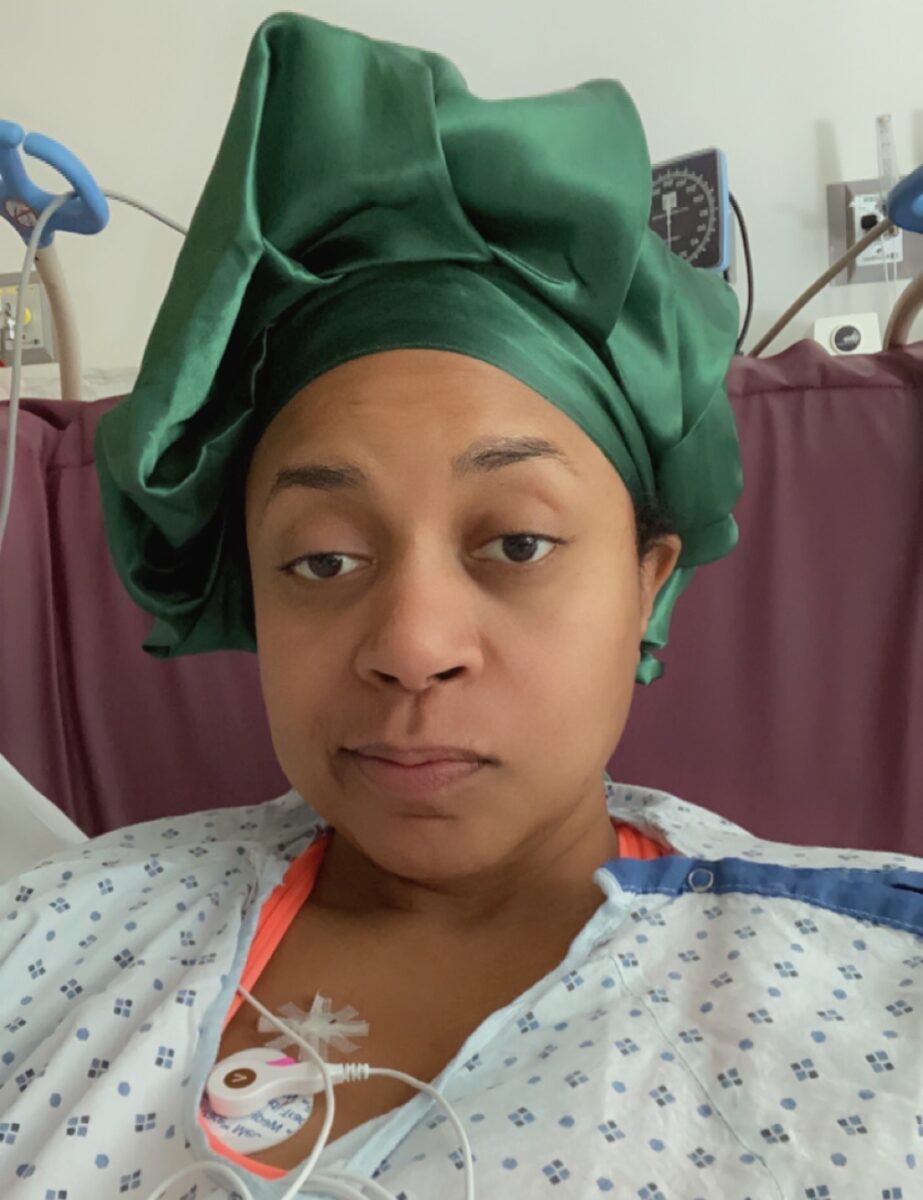 In January I was diagnosed with Type 1.5 Diabetes (LADA). I found out because I passed out and then being the superwoman I am, drove myself to the hospital. YIKES, on a bike, right! I am learning how to navigate this diagnoses later in life after picking up many bad habits (body dysmorphia and disordered eating), so it's taking me some getting used to. Many of you may not know me by name but may have seen me at a Tech & Learning Conference, COSN 23, or The EdTech Poetry Slam ISTE 22 (You can call me the Champ or Amy, LOL). Being presentable is always a high priority for me because as you all know being a woman in the tech field comes with lots of stereotypes and expectations, but being a Black woman in tech leadership comes with extra baggage.
Unfortunately, on Mother's Day I was hospitalized due to a diabetic flare brought on by food poisoning. After 4 days, legit 4 days of treating myself at home. I went into the hospital in my "house" clothes; leggings, sports bra, t-shirt, and a bonnet. If you aren't a minority woman you may not be familiar with the stigma behind bonnets in public, but it is a big issue with respectability politics. I didn't care, I knew it was a dire situation and it didn't matter what I looked like, I wanted to survive.
In the Emergency Room, the nurses and doctors were fantastic, they did what emergency care personnel do, they saved me. I had been throwing up for 4 straight days and could barely hold myself up. They didn't see a person; they saw a need and they filled it. I was grateful. I was then sent to the ICU to recover because I was severely dehydrated, my kidneys were shutting down, and my pancreas was down for the count. Two amazing nurses took care of me when I couldn't take care of myself. Even cleaning me up enough for my kids to come in and see me on Mother's Day with leads and IVs everywhere. But my bonnet persisted. My night nurse was a Black woman, and she knew that I had not done my hair and could not, so she adjusted my crown for me many times. As women we are taught that being presentable is important, so she made sure I was.
Monday morning the Drs. rolled in to talk to me about my condition. ONE doctor spoke to me kind and lovingly, he spoke to me as if I was a functioning human who could understand. The other THREE medical professionals spoke at me, my day nurse, who happened to be Canadian (she gave me the best chips I've ever had) stepped in and said, "She's a Dr. too, I'm sure she can understand what you all need!" Mind you my Ed.D. is no match for a M.D., but in that moment it was her way of letting them know to respect me as a person. I didn't even realize what was happening until she called it out. Their tones immediately changed, it was then that I realized I was not presentable, I was a "young-ish Black woman with a bonnet on unable/unwilling to control her diabetes." I was floored. No amount of degrees, certifications, or connections saved me from being stereotyped in that moment.
The doctor in question, changed his tone and demeanor immediately. He started asking me questions and trying to gain clarity regarding my situation. I explained I had a great team of doctors; endocrinologist, nutritionist, primary care, gastroenterologist, that I regularly saw since being diagnosed. I explained I was not prepared for what to do if I ever got sick, it had never come up. He called my team and they "vouched" for me. My community showed up for me in a moment that I could not. These professionals saw the stereotype they had for me and not the duty to treat me.
All of my experience working in cultural competence and equity, my Black Feminisim, my desire to right the world of bias…"failed" me in the moment I needed it most. I know as a Black woman that healthcare is a terrain I need to navigate carefully, but I just didn't have the strength that day to fight for my health and my dignity as a Black woman. I was worried about what I had done wrong to get so sick, so fast. How could I have prevented this? Am I getting quality care? In the moment, I thought the demeanors were because of the state of my health. I thought the tones were just accusatory of not being mindful of my health and well-being. I forgot about my intersectionality as I fought to grasp how I was going to work with these professionals to get better, I forgot what I was. I got so tangled in my privilege as an educated woman with resources and forgot all they saw was a Black woman in a bonnet with poor health.
Yet, when I thought I "failed" myself, there was a voice there, a voice willing to speak up when mine was weak and pushed down. The nurse seeing that I need an accomplice, stepped in to do the work I couldn't do. The work that this "equity voice," couldn't do. I learned in that moment that I can't be my own Superwoman and sometimes I'll be behind enemy lines and will need cover. That pain stung deep, but it renewed me. It renewed me in a way that I can now fully understand the importance of doing this equity work, despite of and in spite of.
The work we do in education, in technology, in EdTech, in this community is so needed. We will never know the day or time that our equity voices will be needed. I tell you this story, not for sympathy, but for you to ask yourself a question. "How often are you looking past the person, to see the need?"
Fill the need today, you never know who is waiting for you.
Recommended

2

recommendations
Published in Diversity, K12Voices, Leadership Voices, Newsletter