Bold Predictions in Ed Tech for 2023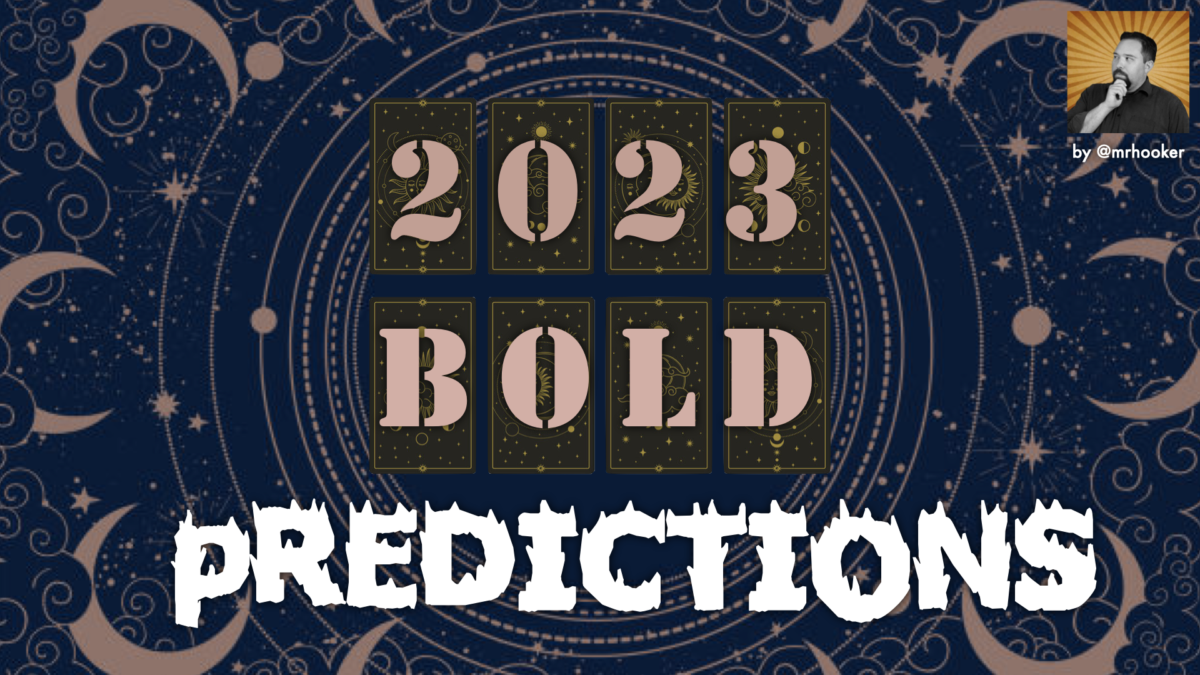 Each and every year since 2012, I set out to challenge myself and my readers to a set of bold predictions around the ed tech space. Yes, I usually sprinkle in some pop culture and politics (Oprah running from president in 2020 didn't happen..maybe the Rock in 2028?) But mostly these center around innovation in and around the classroom learning space.
In reflecting on this past year and previous years, there are times when my predictions hit the mark, like when I guessed that Texas would give up its Pearson testing contract. Others, took time, like when I predicted in 2013 that a device other than iPads would rule the classroom (hello Chromebooks!). Mixed in with the successes are some failures of course, like when I predicted self-driving school buses in 2016 (still a chance!). This year, it's a mixed bag. Many of these are on the verge of reality while others may never happen. So without further ado, I present to you, my 2023 Bold Predictions :
Artificial Intelligence will make AND break classrooms around the country
I'm going to start out with a bit of layup here. I've written about artificial intelligence in past bold predictions (2018 and 2017 here) and in 2019 I even predicted that someone would write a blog or paper with predictive text. With the release of open source tools like ChatGPT, it's finally at the classroom doorstep. This coming year will be extremely vital to the future of AI in schools. Will we ban it or embrace it? Will we run from it or run towards it? The progressive school leader will see this as an opportunity to create new learning pathways as AI begins to remove some of the lower level tasks like filling out worksheets or writing a short essay about the trade routes of the 13th century. New courses in teaching the AI to work better for us will emerge and be both congratulated and vilified. AI is a part of our collective future, but will it be a part of what our kids learn? That's a question ChatGPT can't answer…YET.
VR mobile labs become reality
Virtual reality is still somewhat on the fringe when it comes to education even though I've written about it since 2016. The price of getting VR headsets for each student is becoming more reasonable, but issues like long-term eye strain and other health concerns will likely keep a 1-to-1 VR environment from happening anytime in the next several years. However, much like when schools started rolling out their device programs, I can see a future where there are VR mobile labs that teachers can use to immerse students in a certain environment. When Google Expeditions died off in 2021, it means there is a new opportunity for an ed tech company out there willing to make a splash in this space. Or maybe the Metaverse will just take over.
Educators flock to K12Leaders 
With Elon Musk's purchase and repurposing of Twitter, many educators are flocking to different online communities and spaces. Some are heading to Twitter-clone sites like Mastodon in the hopes of re-creating the same experience on that platform. However, much like Twitter, it could face similar changes in the future as almost every social media platform is run for commercial gain by using algorithms to keep you scrolling. Last year, in this column, I wrote about a new platform launching that is solely for educators and those that are educationally adjacent to our space. K12Leaders takes the best parts of Facebook, Twitter, and LinkedIN but is run on Human Intelligence, not AI. Instead of algorithms, there are conversations. As co-founder of the platform, I'm admittedly biased, but for the now 1100+ users, we get to be a part of building a safe social space for educators from the ground up. My BOLD prediction – by the end of the year we'll have 25,000 users.
Elon Musk tries to become James Halliday
Speaking of Elon, my UnDisruptED co-host Adam Phyall has long been of the theory that Mr. Musk is actually a Bond villain. Taking over transportation, space, satellite internet and social media are just the first steps in his slow take over of the planet. I still have hope for him though as his innovations have led to some great societal changes. My next prediction for him is that he goes full on Ready Player One and creates an Oasis for education. A place where kids from anywhere on the world can connect and learn via some sort of VR mechanism. Will this be the final step towards true equity in education or is it just the next step in global domination for Elon? It's certainly becoming more and more of fine line between the two lately.
Remote teaching fills in the gaps
As we now enter the post-pandemic phase of education, what can we take away from that experience that will benefit students going forward? Most schools provided some sort of device to their students during the pandemic but some of those are not being utilized as we go "back to normal." Add to this, an educator shortage that will lead to increased inequity of learning opportunities and you can see that we might have to get creative in the future. How can we fill the gaps in teachers, especially in speciality areas like Computer Science? Remote teaching continues to increase since the pandemic and some companies like Rex Academy have created student-led CS courses that come with an accompanying virtual teacher. Rather than trying to find a teacher to teach a single CS course, schools in the future will outsource those courses to remote options. This will save on payroll and provide more opportunities for students in hard to reach areas. While online learning isn't ideal for everyone, it might start to close the equity gap based on geographical boundaries.
The "Shopping Mall" School is launched
Remote learning fills in some gaps, but we still have a need for some physical spaces as well to interact and learn. During the Tech & Learning Innovative leader summit in December, teams of innovative educators gathered to brainstorm ideas for what the future school might look like. One team, the Centre for Innovative Learning, came up with an innovative idea that I think will gain some traction as the big box stores and shopping malls give way to Amazon online retail. With several big stores like Toys R' Us and Sears going out of business in recent years, it leaves some large commercial real estate that could be used for an innovative new school. The movie theater becomes the performing arts center. The food court becomes the culinary arts department. The old Sears becomes the auto repair shop. Aspiring beauticians can utilize the many hair salons and for the entrepreneurial student, why not spin up a kiosk to sell your wares in the middle of the store? This isn't a new concept for community college (ACC here in Austin did this a decade ago), but the potential for K12 is tremendous. Check out their full pitch deck here and the full Innovation Playbook here.
Cybersecurity becomes cool again
Actually, when was it not cool?  Ok, ok, I get it, no one wants to spend hours talking about ransomware and data privacy. However, those companies tasked with helping with filtering and threat detection have taken some major leaps in the past year. One in particular that I've been an advisor with (Linewize) has added some major components through the purchase of companies like NetRef, Qustodio, and Smoothwall. Putting all these tools under the same roof make more and more sense for schools trying to stay ahead of the next ransomware attack. As a bonus, schools can use their app tracking database to check on usage of purchased applications to monitor ROI (Return on Investment) and provide targeted professional learning in the future.
Wireless displays make classrooms truly mobile. 
The Consumer Electronics Show (CES) is one of my dream conferences that I've never attended. I think more educators and those in leadership roles should go if they want to keep an eye on what the future brings in tech. While it's geared towards consumers, eventually, items that debut here can make their way into the classroom (see: tablets). This year, I was excited to see this LG completely wireless TV display. As more and more classrooms move away from the "Sage on the stage" model with interactive white boards, this could be a nimble solution that truly makes presenting mobile. Currently, schools are paying hundreds in upgrades for displays on wheels, but these still are limited by needing a plug nearby. They also leave behind pretty large footprints as the bottom of the carts have to be fairly large to make sure the monitor doesn't fall over. With these new LG screens, you could have multiple wireless display screens all over the classroom for a truly immersive experience….once the price becomes reasonable.
Ready, Set, Fail HARDER!
Last year, I launched my 7th book Ready, Set, FAIL! making true on my 2021 prediction that I would write another book. I couldn't have predicted the underground success that comes when talking about failure, but it has struck a chord with educators and students alike. The truth is, our schools tend to be places where we preach compliance and conformity and less about risk-taking and failure. With this book, there has been increased momentum with schools reflecting on how much they encourage risk versus safety when it comes to creativity. This year, I predict there will be much more to come centered around Ready, Set, FAIL! including an online course and classroom playing cards designed to help students risk, fail, recover, and learn.
The Voyage for Learning sets sail in 2024
In one of the final chapters of my book, I put my BHAG (Big Hairy Audacious Goal) out there for the world to see. Since 2015, I've been slowly working with various teams of educators to help create a different concept for the traditional conference. One where experiences and connections take import over sessions and vendor halls. The Voyage for Learning will feature a variety of different land and sea experiences for those in attendance that I can't reveal until we launch, but stay tuned. This final prediction is that in 2023 you will learn more about what this experience has to offer and why it will be more enriching, fun, and engaging than a traditional mega-conference. Ready, Set, SAIL!
Recommend

0

recommendations
Published in Leadership Voices